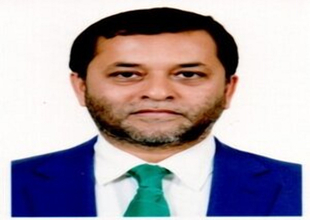 Mr. Mohammed Nasir Uddin Chowdhury
Shareholder Director
Mohammed Nasir Uddin Chowdhury has 28 years of expertise in the capital market, financial services, leasing, and venture capital industries. He was a vital contributor to the development of the aforementioned sectors as a finance professional. He currently holds the post of Managing Director of LankaBangla Securities Limited (LBSL), which has been a top broker at both the Chittagong Stock Exchange (CSE) and the Dhaka Stock Exchange for the past 16 years (DSE). Prior to taking over LBSL, he led LankaBangla Finance Limited (LBFL) for five years as the Managing Director.
Prior to that, Mr. Chowdhury worked as the CEO of LankaBangla Securities Limited (LBSL) from July 2002 to April 2011. From May 2010 to March 2011 and May 2008 to May 2010, he held the positions of Senior Vice President and Director of the Dhaka Stock Exchange Limited. For 2018–2019, he presided over the MIDAS Financing Limited Board of Directors as Chairman. He served as the BMBA's (Bangladesh Merchant Bankers Association) President during 2018–19.
Bangladesh's Equity Market industry has been blessed with the presence of remarkable personnel Mr. Mohammed Nasir Uddin Chowdhury who holds 25 years of experience in the Capital Market arena and has contributed a lot to the development of Bangladesh Capital Market.
In addition to his professional work, he has been actively pursuing social work through social clubs (Member of Dhaka Club Limited, Chittagong Club Limited, Kurmitola Golf Club, Cadet College Club, Bhatiary Golf, Cox's Bazar Golf & Country Club) and an alumni association (Old Faujians Association, President 2014–2016, OFA Dhaka Chapter and Vice-Chairman 2020-2022, OFA CGB). Aside from the aforementioned affiliations, he is also a Director of the International Business Forum of Bangladesh (IBFB).
Mr. Chowdhury completed his high school education at Faujdarhat Cadet College in 1989 and earned a post-graduate degree in Marketing from the University of Chittagong (1994). He participated in a Harvard Business School training program on "Authentic Leadership Development". Additionally, he has taken part in several trainings, workshops, and seminars both domestically and overseas, including those held in the United States, Japan, Hong Kong, Singapore, Sri Lanka, India, Thailand, and other nations.
In his personal life, Mr. Chowdhury is happily married and the proud father of two daughters, who are studying at Middlebury College in Vermont, USA, and the United World College, Isak, Japan, respectively.